Step 1: (Generally) About EssayExpert
Essay.Expert is a new company in the marketplace, "based" in Atlanta, Georgia. Their website is big and brash, and they make the claim that "We are the experts - exceedingly excellent essays." Obviously, they use the new ".Expert" domain name which will take some getting used to - people still expect to put a dot-something in there. As for the site itself, it is well laid out and clear with most of the big information appearing on the landing/home page.
Essay.Expert claim free revisions, money back guarantees, quick delivery, friendly rates and, of course, experts only. Essay.Expert review sites praise the layout of the site very highly; and its clarity and ease of use too.
Step 2: Quality of Products and Services
Essay.Expert gives its areas of expertise as theses, reports, presentations, essays and articles - these are then further expanded on into homework, dissertations, term papers, research papers and essays, once more. Even their services page does not go into detail about the services beyond a brief generic sentence or two about each category. We would have expected more detail and an idea of what areas they particularly excel at.
There are no sample papers or examples of the products offered, so it is impossible to verify the claims of "excellence," and "expertise," that are muted here.
EssayExpert reviews that we have seen tend to confirm our thoughts that there is no really reliable indication of the quality of the products and services available here.
There are just 8 EssayExpert testimonials. These have no rating score and are just a couple of lines of inevitable praiseworthy comments which are internal and should be treated with a degree of caution. You may find SiteJabber, Trustpilot, Manta and GlassDoor a little more objective.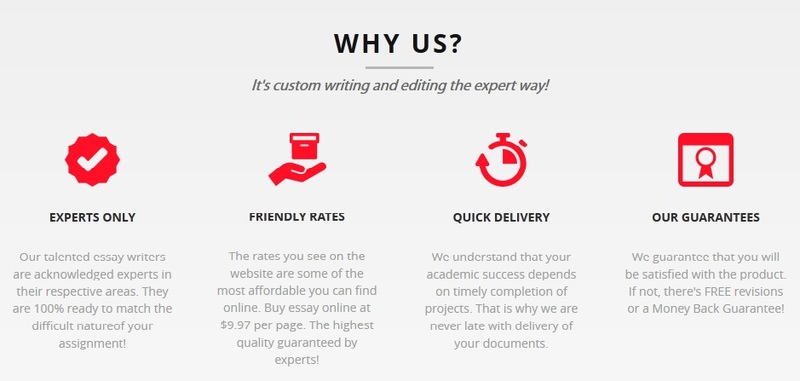 Step 3: Writers and Support
EssayExpert claim that all of the writers have a higher-level doctorate or Ph.D. qualifications, and all are thoroughly tested, and their abilities confirmed, before being engaged.
The problem is that this is not verified anywhere on the site - in fact, there is precious little information about the writers at all - anywhere - aside from a few generalities about their alleged prowess at essay writing.
There are no in-depth biographies or personal biographies or any other means of seeing exactly what the writers are capable of.
We found customer support to be easy to get through, (they are available 24/7 by phone, email or via online chat; and, we have to say, it makes a nice change to be greeted by someone who is vaguely enthusiastic about what they are doing. Unfortunately though, our simple query about a price issue took ten minutes to sort out as it had to be referred higher up the chain.
An Essay Expert review that we saw also mentioned the lack of knowledge by the customer service team.
Step 4: Prices
Essay.Expert prices are split into four distinct sections: problem-solving, multiple-choice questions, editing and proofreading, and writing from scratch. Problem-solving is the most expensive choice of service, followed by writing from scratch; and then editing and proofreading and multiple-choice which are both much cheaper choices.
To give an idea of the pricing we asked for a 10-page essay paper to be written from scratch, at bachelor degree level, and with a 14-day deadline - for this we were quoted $160 before any discounts were applied.
Essay.Expert reviews put the prices charged in the mid-range of comparable services from other sites; that said, lots of services which come as standard, within the price on other websites. The table of contents, outline, abstract, plagiarism report and choice of writer are all charged extra for here - this would bump up the pricing considerably.
Essay.Expert coupon codes do not seem to be available.
EssayExpert promo code offers are not available either.
Step 5: Additional Features and Discounts
EssayExpert discount offers seem to be limited to 5% on any order over $500 and 10% for any order over $1,000. There are no introductory discounts and no extra, or occasional offers
An Essay Expert scam is unlikely -  this site gives its location and contact details, would seem to be fully encrypted, and gives and sells no personal or financial information on its customers to third-parties.
Essay Expert ratings are not particularly great overall - their services are very expensive when all the little extras are added - and they are incredibly vague about their "exceedingly expert," writers.
We would be "exceedingly cautious," about using them unless you want to take a very expensive leap into the dark.